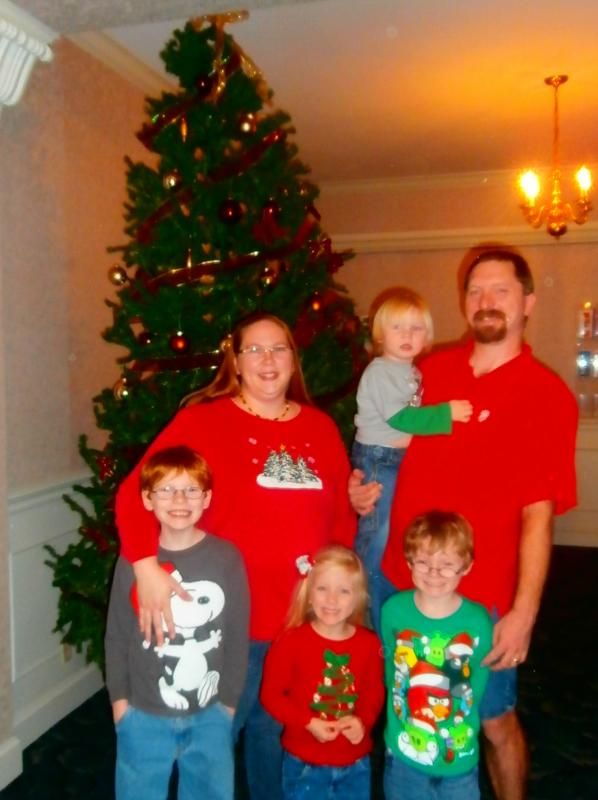 Merry Christmas from the Bailey family! We had a great Christmas this year. The boys got toolboxes and gift cards to begin building a fun project with their Daddy. Abby got a much asked for stuffed pink manatee. Andon was thrilled with his ball and has already run down the batteries in his toy drill. Patrick got an old school Atari. I received the most beautiful silver earrings with beautiful sapphires in them.
However, I think my greatest Christmas gift this year came in the form of a lesson Abby taught me.
One day we were driving to the grocery store and Abby exclaimed, "Mommy! Did you see those angels? And baby Jesus?" I told her I didn't see them, but I would be sure to look the next time. Well this scene repeated itself several times. I kept thinking, these Christmas decorations must be amazing for her to get so excited about them! This went on for about three weeks.
Finally one day I saw the angels and baby Jesus. They were old, plastic, dirty, and the paint was peeling off. Their backdrop was a piece of weathered grey plywood that wasn't even centered behind them. I was shocked and taken back as Abby's excitement grew, "Did you see them Mommy? Did you see the angels praising baby Jesus?" I couldn't understand it. She had certainly seen prettier, sparklier, more expensive decorations that were symmetrical for goodness sake! Why was she so taken with these decorations?
God spoke. "Angie, why aren't you?"
It's not about the sparkly, the new, or even the symmetry as much as it pains my OCD self to say that. It's about the baby. And this depiction of his birth was more realistic than any other thing I had seen. Abby got that. She was so excited about the baby and the angels that announced the King of Kings, it didn't matter to her that they were dirty. They were beautiful in her eyes.
Father, help me see You through the excited eyes of my three year old girl child. Thank you for her perspective. Amen.
For to us a child is born,
to us a son is given,
and the government will be on his shoulders.
And he will be called
Wonderful Counselor, Mighty God,
Everlasting Father, Prince of Peace. Isaiah 9:6