Hi! This is Aiden! I'm guest blogging for Mommy today! She asked me to tell you what we did on our trip to Florida.
When we first got there, Mimi and Papa threw a birthday party for Anthony! Mrs. Pam brought some new friends for us to play with! We went swimming, had hot dogs, and cake. Anthony got really neat presents!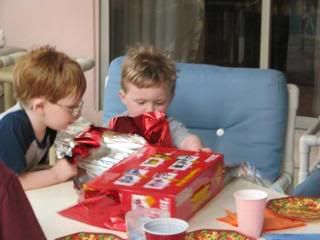 Auntie Joyce came! We love playing with her!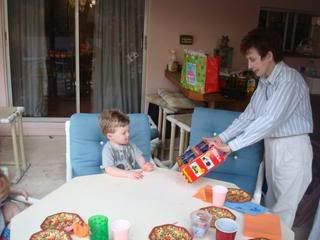 Anthony always gets shy when people sing to him!
He needed a little help to blow out the candle.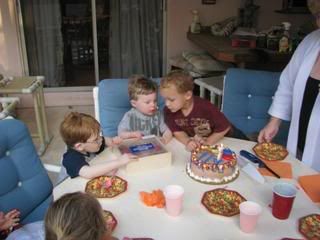 He didn't need any help to eat though!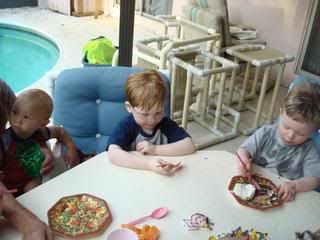 We met Mimi and Papa's new puppy Maggie! She's so cute and loves to play! She also like to eat things. She ate my glasses!!! I thought it was funny! Luckily Mommy brought an extra pair.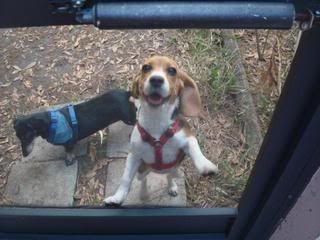 The next day we had Lots of stuff to do! Mimi and Papa were getting married and we had to help get ready for the party! Here we are, off on our errands.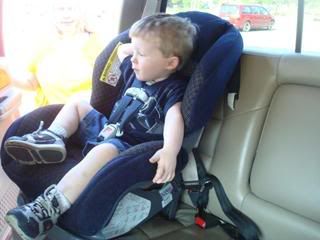 Anthony and I are gonna carry the pillows with the rings on them at the wedding!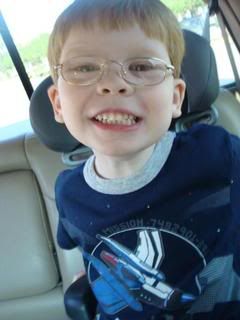 We had to take a little break though! Anthony wanted to eat here! He yelled, "Chicken!" Mommy and Daddy were pleased! It was actually open. Mommy said everytime she comes to Florida the owners have closed it to go on vacation. The last time Mommy got to eat at Maryland Fried Chicken was in 2002.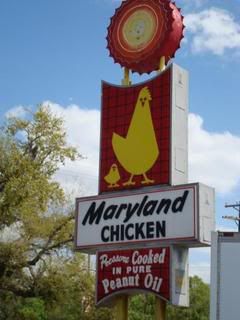 After our break we went to Uncle Jack Jack and Aunt Sandy's house to work on the wedding. We helped put up the tents.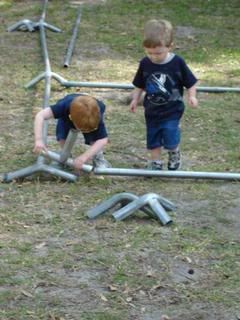 Then, Mimi asked us to help water the flowers!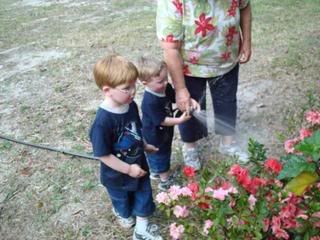 We made sure everything got good and wet!!!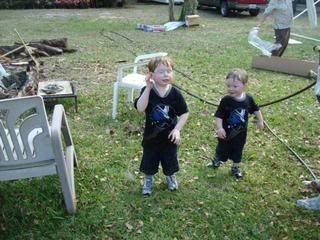 We took a little break, after working really hard all day, to test the temperature of the pool. It was just right! I really loved jumping in!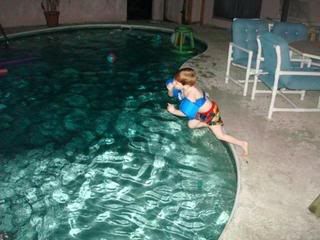 Anthony liked it too!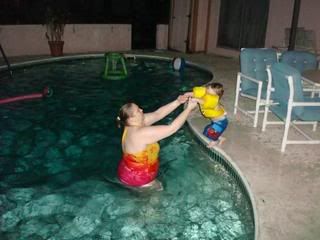 We both swam all over the place! Mommy didn't even have to hold onto us!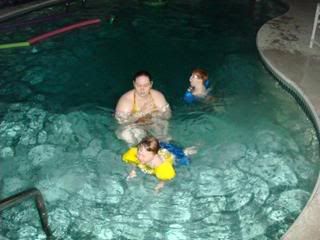 On Friday we had a rehearsal to make sure Anthony and I could walk down the aisle. We did fine. Gabby, one of our new cousins, did a great job as the flower girl. Then, we all went to play while the big people decorated for the wedding.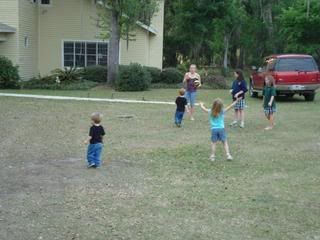 On Saturday Mimi and Papa got married! Mimi looked BEAUTIFUL!!!! Mommy signed "Amazing Grace" during the ceremony. We walked down the aisle with our ring pillows. Then, I got nervous and ran back up the aisle and Anthony stopped. So, Mommy came and walked us both down the aisle. Daddy married Mimi and Papa, he did a really good job. We don't have our pictures of the wedding yet. Hopefully we'll get those soon! There's a great one of Anthony eating his corn. There were lots of fun things for little people to do at the wedding! Mimi and Papa love little people!!! They made sure we had a good time! There was a sandbox to play in and bubbles, but the best part was the horse! Anthony is riding with our new cousin, Felicia.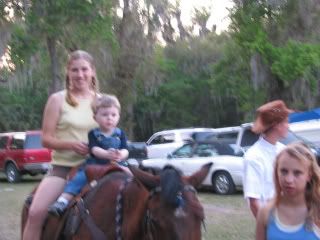 We also got to listen to a great bluegrass band and eat yummy food after the wedding! We're all in this picture, look carefully for Anthony!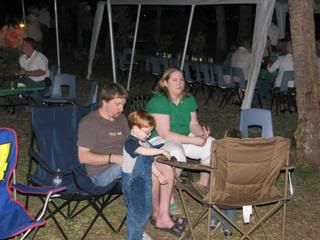 The next day we headed to the island! But first, we had to stop for something very important! The preacher, Daddy, signed the marriage license first!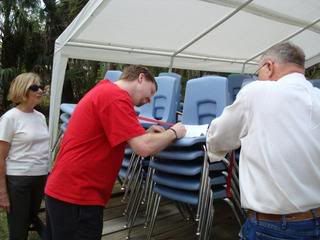 Then, Uncle Jack Jack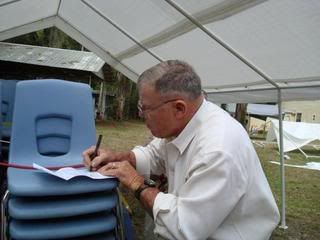 and finally Aunt Sandy! It's official!!! Mimi and Papa are married! YAY!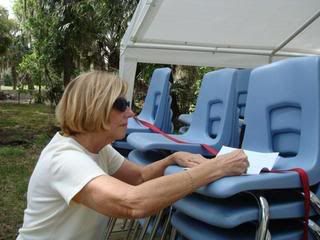 We're here!!! The island!!! Mommy says this is her favorite place on earth!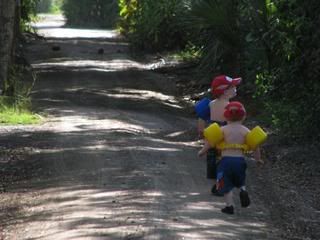 We went on the boat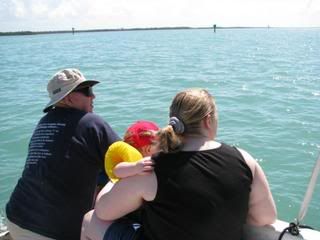 We went swimming at an island infested with pirates! But Mimi kept us safe!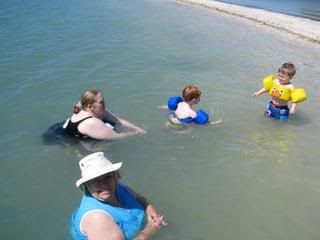 We saw three porpoise! They are beautiful and Mimi gets really, really excited when she sees them!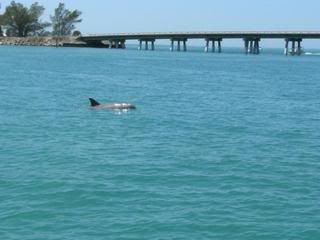 Daddy taught us how to pee off the deck of the house. Mommy was so embarassed by this.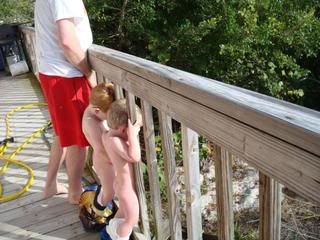 But the best part was the beach! We love running down the boardwalk!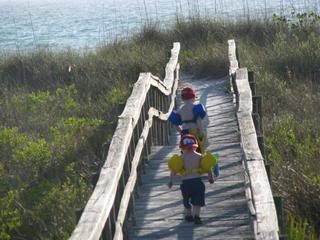 And looking for shells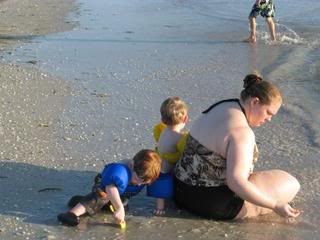 And playing with sand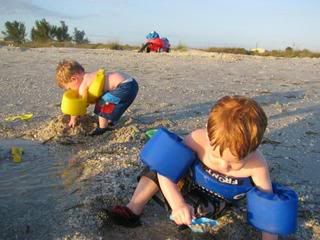 And making sandcastles with Daddy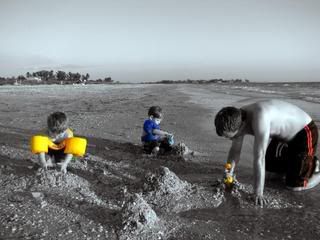 until the sun goes down on our favorite place on earth!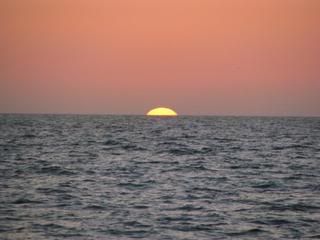 We love you Mimi and Papa! Congratulations and we can't wait to see you again!