As soon as Anthony's birthday was over, Aiden began asking who was next. Well, it was me! :) I asked Patrick if I could have a nice, simple, just family, birthday. I got more than I ever dreamed of! It was a Wonderful day! Patrick arranged for a babysitter from 9-3. He took me out for coffee and breakfast. Then, he surprised me with a pedicure! It was so great! The nice lady even gave me flowers on my big toes because it was my birthday. I have cute toes!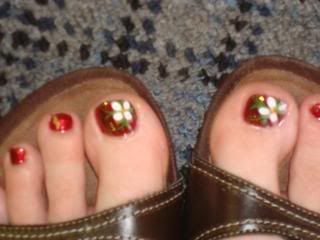 After the pampering we went to Wal-Mart and Patrick let me buy a movie. I chose "A Knight's Tale" because I had never seen it. We drove around for a little bit and then we ate lunch at Salsarita's. I had steak nachos and they were yummy! Then, we watched the movie on the big screen TV at the student house at church. It was funny and romantic! A great movie! Then, we came home and I played with the boys while Patrick ran a few errands. When he got home he kicked me out of the house. I grabbed a book and went to Old Dairy. I had a chocolate chip cookie dough brownie. Yum! Then, I went to a park and read my book. Two hours later Patrick told me I could come home! So, I did!!!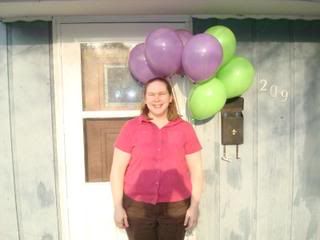 When I walked in there were Hannah Montana decorations and presents! Aiden and Anthony were so excited and Aiden was saying, "surprise!"
I had beautiful flowers from Mimi and Papa Doug!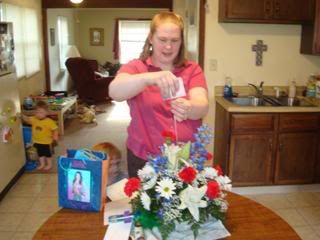 This had happened while I was gone!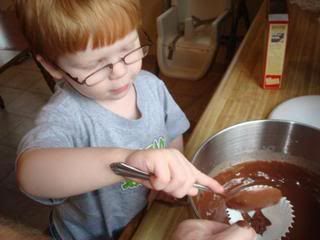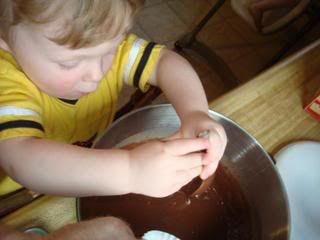 And the incredibly delicious result was this!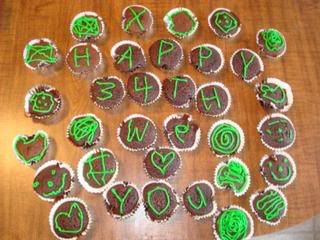 Patrick had grilled steak, asparagus, and French fries for me. We ate outside, it was a beautiful day! As I was blowing out my candle, making my wish, I remembered that last year I had wished for Anthony to be adopted. :) I hope this years wish comes true too!
Aiden and Anthony picked out a Hannah Montana poster for me!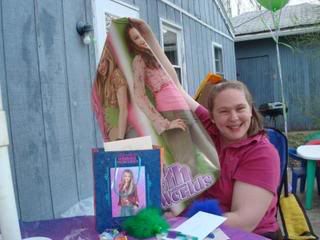 Patrick gave me a Hannah Montana beach towel! (Yes, I really, really like Hannah Montana!)
I also got some cute summer jammies from my Mommy and Daddy, but I'm not showing you my jammies. :) And my Mema sent me some money, I get to go on a shopping trip!
And then, I played
and played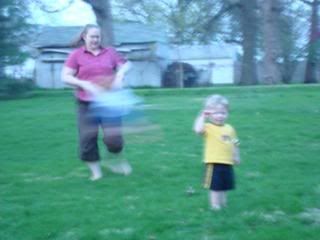 and played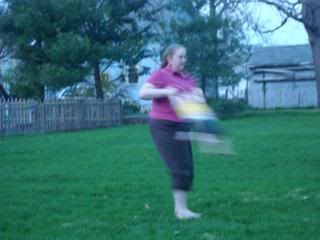 with my wonderful boys! What an amazing birthday! Thanks to my three wonderful boys!