Wednesday, October 19, 2011
Sunday, October 2, 2011
When I was pregnant with Aiden, there was fear of the unknown. Fear of being a mother. Fear of labor. Fear of caring for a baby. Fear of finances. Fear of losing my husband. Fear of really screwing up. With Abby, there was fear of losing her, of pushing the envelope too far, and of never seeing her smile. There is no fear with Andon. The entire pregnancy has been void of fear. Normal is strange. As I've said in the past, God is continuing to bring beauty from ashes.

Waiting for Andon. So many dates, so many possibilities. October 24th, his due date. October 19th, the scheduled c-section. October 8th, the day Aiden has chosen that Andon will be born. October 4th, the next ultrasound and the determination of how big is he really and do we need to move the c-section up. All of the hours in the middle when he could decide to come on his own.

What to do in the waiting? Be normal. So very strange, this being normal thing. I'm nesting. Had the sudden urge to clean my ceiling fans. I resisted, only because I knew I'd get yelled at for getting on a ladder. I'm in alot of pain. I'm having contractions here and there, but nothing consistent. I'm nauseated alot, which is new. I'm watching my diet, controlling the gestational diabetes. I'm seeing the doctor twice a week. I'm waddling. I'm growing out of all of my maternity clothes. I've packed a hospital bag, well for Andon at least, not for me. I'm trying to think of all the things we need to do before he arrives.

I'm trying really hard to be at peace with God's timing on his arrival. It's hard. So, I pray for peace and try to remember to enjoy this time. I know this is the last time I will feel a child inside, kicking me. I'm trying to remind myself to wait with joy instead of grumbling. It's hard. This normal waiting is weird. There's no fear in the waiting.
Posted by

MommytoAJ4
at 2:42 PM
No comments:

Posted by

MommytoAJ4
at 8:07 AM
No comments:

Saturday, October 1, 2011
I have beautiful maternity pictures with Aiden. I was alot younger looking then! I never had pictures made when I was pregnant with Colin. I was on bed rest. For some reason though, I do not even have pictures we took ourselves. I don't know why. I do not have any pictures documenting my pregnancy with Colin. I have always regretted that. I "resolved" that issue when I was pregnant with Abby. I took belly pictures every week with her. I never got professional maternity pictures though, because I got put on bed rest and placed in the hospital.
Today, we had family pictures made. Me, pregnant, surrounded by my three beautiful children and my handsome husband. That was sweet. We took individual pictures of the three munchkins. They are cute as a button. Then, the photographer took a picture of me and I'm holding my very big round belly in my two hands and I'm looking down at this life inside of me and my face is beaming with joy. The picture is "the" picture. I looked up and saw it on the screen and tears formed in my eyes as my sweet Father in heaven whispered in my ear, "beauty from ashes Angie." It's as if He wants to redeem every part of my regret and pain one moment at a time, in a very intimate dance with me. What kind of love is that?
We are His portion and He is our prize
Drawn to redemption by the grace in His eyes
If grace is an ocean, we're all sinking
So Heaven meets earth like an unforeseen kiss
And my heart turns violently inside of my chest
I don't have time to maintain these regrets
When I think about the way...
He loves us
Oh how He loves us
Oh how He loves us
Oh how He loves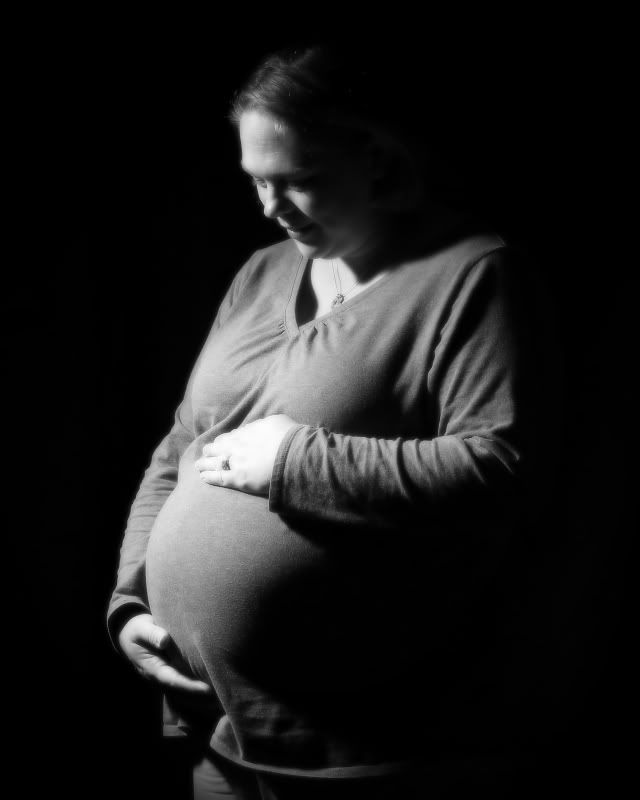 Posted by

MommytoAJ4
at 2:18 PM
No comments: