On Tuesday, Aiden began preschool. He will go on Tuesday and Thursday from 8:30 to 11:00. We decided he really needed some opportunities to make some friends. We also wanted him and Anthony to spend some time apart from one another. He was so excited to go! We went to the parking lot of the church and prayed for his school several times this past week. We bought new school clothes and packed his backpack. We talked about making new friends and his new teachers. The night before Aiden prayed to have a fun day at his new school. It was the sweetest prayer.
Here's the new student all ready to go.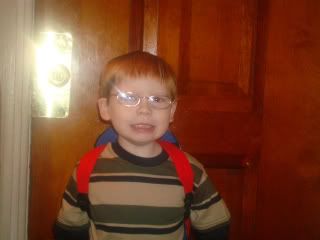 Walking out the door, backpack all ready.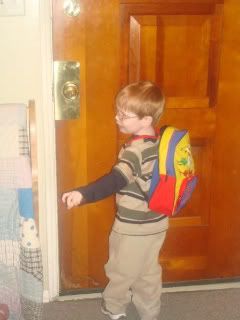 This is the current sign at the church. Isn't that neat? Aiden loved seeing his name on the sign.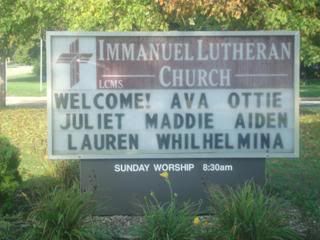 Walking in . . . Mommy was nervous, not Aiden.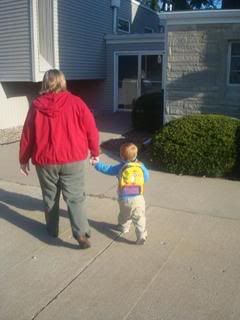 We hung up his coat and backpack on his hook. Right now he is sharing a hook with Ava.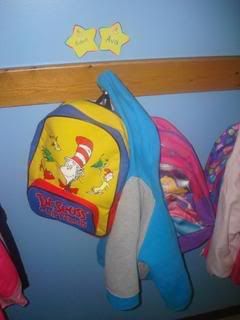 Then, we signed him in and washed our hands. Here we are getting ready to go into his classroom.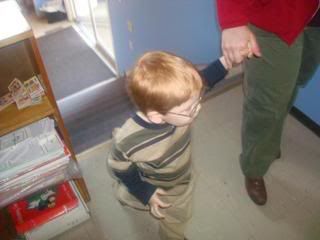 He went right up to his teacher and said, "Mrs. Cindy, what comes next?" We had to beg for a kiss goodbye, he was too busy playing.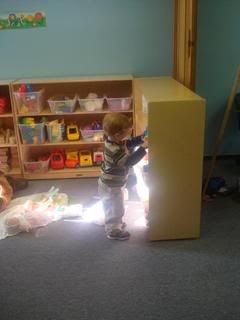 He loves school! He made a new friend, "a boy named Ottie." He and Ottie are the only boys with five girls. He also "made a sun with purple glue" and liked his teachers Mrs. Cindy and Mrs. Amy. He does not love leaving school. He cried for fifteen minutes when we left. He got even more upset when I told him he wouldn't be going again for two more sleeps. In the meantime, Mommy cried herself to sleep because her baby is growing up way to fast.