We had a doctor's appointment today. Everything is going very well, very normal, which is very unusual for us! We are loving it! Hershey was hiding from the Doppler today, so we got a bonus ultrasound! He or she waved at us and we could see the fingers clearly! It was so neat!!! Here's our little one: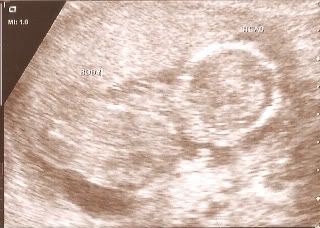 We go back in four weeks and have our big ultrasound in five weeks. Hopefully Hershey will cooperate and we will find out if this little one is a boy or a girl! Today, the baby had legs crossed and was being quite modest. Both of my boys, Aiden and Colin, were very proud to show off their anatomy, so here's to hoping Hershey won't be shy in five weeks!
Here's our latest belly pic. This was taken Friday at 15 weeks.