Thanksgiving 2009
There are so many things I have to be thankful for this year. We haven't had our Thanksgiving dinner yet. Patrick works retail, we'll celebrate on Saturday, but I couldn't pass up the day without talking about how my Precious God has blessed me!
This man!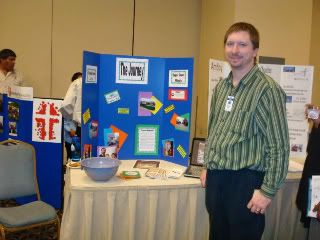 I have been blessed with the most amazing husband. Not only is he an incredible Father, but he is my best friend. I can't imagine life without him, nor do I want to even try. I waited a long time, I got married "late" in life according to most people, but he was worth the wait. God knew exactly what he was doing. Yeah, I get really frustrated with Patrick. Yeah, we fight, hard. Granted, we don't fight as much as we used to, we are both learning in that area. But we are both quick to make up. There was a small time in my life when I thought Patrick would be better off without me. Needless to say, it coincided with a huge dip of depression in my life. I'll never forget his words, "I know you do not have faith right now, but I have enough for both of us, and living without you is Not an option for me, ever." On more than one occasion he has battled my personal demons with prayer and truth. He encourages me, loves me, and laughs with me. I cannot believe I get to grow "young" with this man. To top it all off, when I look at him, it rocks my world! ;) I am truly thankful for my Patrick, the love of my life.
My red head!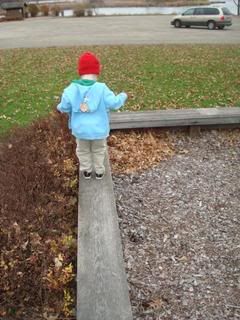 This little boy never ceases to amaze me with his intelligence, his compassion, his understanding of very grown up things, and his love for his Mommy. I am continually laughing and in awe of the things coming out of his mouth. He has insight beyond his four years. I cannot imagine what God has in store for this little man, but it is something beyond our wildest imagination. I pray that Aiden will accept his calling in life quickly and whole heartedly serve God. But, more than that, I pray that I will be able to support him. I have a feeling God will be using him and that as a Mom I might get in the way sometimes. It's so hard to watch your babies fly. As long as he's on the wings of Jesus, I'm good. I'm so thankful to be the red heads' Mom.
My Peanut!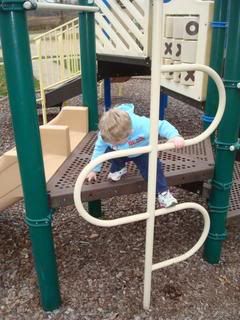 In the past few weeks I've had to reconsider my nickname for my Peanut. He's grown three inches! And he's growing in leaps and bounds in all areas of life. Too fast, if you ask me. Recently, I had the joy of sharing Peanut's story that lead to his adoption. I had no idea why I was sharing, but I felt God urging me to. Come to find out I was speaking to someone who was considering adoption and our story inspired them that God would bless that in their lives. Oh, how He blessed our lives with this little boy! I cannot imagine life without him. He is the most mischievous, stubborn, determined, and helpful child I've ever met. All of those "stubborn" traits are so much like me it is scary. He is a tiny reflection of myself and he keeps me on my knees and humble before my Heavenly Father. How amazing that God would choose this little boy to be mine, knowing he was just like me. I am truly thankful for my Peanut!
Hershey!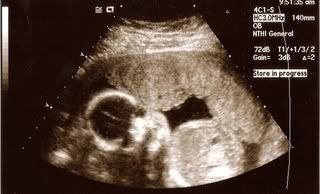 This is a picture from our ultrasound at 24 weeks. Hershey's face is looking towards you on the left. There are not enough words to express my thankfulness for this little life. I never thought I would get this far in a pregnancy again. We had completely given up, but God had other plans. Right now as I write, Hershey is having a playday in my tummy. The flipping, kicking, and bouncing is getting stronger and stronger each day. We are no where out of the woods with this pregnancy, but we are past the point of viability out of the womb. I'll be 26 weeks tomorrow. I am in awe of what my God has blessed us with and truly thankful for my Hershey Kiss!
Double dates!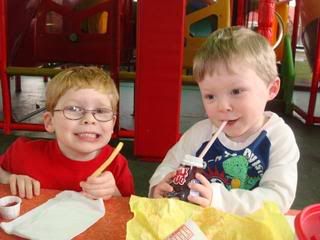 I am so blessed to have these two. I am even more blessed to be able to stay at home with them. We went on a lunch date recently. Just the three of us. It strikes me that these kinds of days are quickly coming to an end. We are so close to Aiden starting Kindergarten. I can't imagine him not being with me everyday. I'm not sure who is going to be the most affected by that, me or Anthony. For now though, I will count my blessings and be intentional about spending time with my boys while they are little and still like to hug and kiss on Mommy. I am truly thankful to be a stay-at-home Mom.
The Money Shot!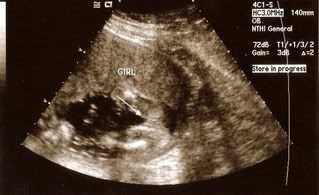 I'm thankful that Hershey is a girl! I'm thankful that my boys love talking about their little sister. I'm thankful that my husband is so head over heels in love with his daughter that he scares me sometimes, because he'll give her anything she wants! I'm thankful that I have been blessed with a daughter. I'm thankful that her name is Abigail Jaicee. Abigail means "the joy of her Father" and that she truly is, we pray not only Patrick's joy, but the joy of her Heavenly Father as well. Jaicee means "healer" and the healing this child has brought to our family is not measurable. We pray she will tell others of her Savior Christ someday, bringing the ultimate healing to those around her. I'm thankful that my boys still want to call her Hershey. Today I am truly thankful that Abby has 99 more days until her expected arrival!
All things pink! And amazing friends!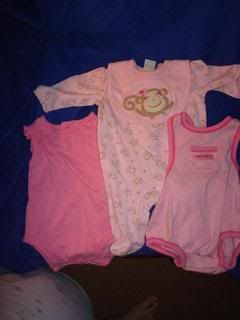 Two days ago I received a box full of pink frills! Oh it made my day! I am so thankful for amazing friends that already love and care for my family and this precious baby. This particular friend I have known for five years, but get this, I have Never met her. Isn't that amazing? I have a group of women, the Luv Bugs, that I would literally trust my life with. There is not a one of them that I would not trust to babysit my children. A few of them I have had the privilege to meet in person. They have carried me through every loss, through every pain, through the joys, through the financial problems, and just life in general. They are an amazing group of women. I am truly thankful for my Luv Bugs!
A soft pink blanket!
After that lunch date, my redhead said, "Can we go buy something pink?" I am so thankful that my boys are so excited about their little sister. We looked for something all day long that met their standards (and Mommy's budget!!) They reminded me so much of their Daddy! The conversations were very much like this, "oh, this is pretty, it's pink! Can we buy Hershey a pink stroller? No Mommy, that's purple, Hershey needs pink!" We finally narrowed it down to two blankets, both pink. Then, it happened! For anyone that knows me well, you know that if you go shopping with me, I will often times determine a purchase on how something feels. I walk through racks of clothing with my hands out touching things, if it's soft, I stop! If it's not, forget it. So, I'm holding these two blankets and we're trying to decide which one the three of us like best. Aiden says, "well, I need to touch them!" He reached out and touched both blankets and said, "that one, it's the softest and if Hershey doesn't like it, we'll find her something else!" It was his Mommy and his Daddy all wrapped up in one sentence! Oh how thankful I am for soft pink blankets and that they remind me of how very blessed I am by my Heavenly Father. I feel like God has wrapped me in a blanket the past few months and keeps saying to me, "isn't this soft Angie? Isn't it good to sit in my presence? I love you Angie!" I am so very thankful for His love!