It's been a week to not do anything at all except get used to the new life we have now with three children. All of our help went back to their homes this week. We really miss them! There is no way we could have done this without them! There are not enough words to express our gratitude for Mimi, Papa, Nan and Grandaddy, over the past few months as we all came together to get Abby here safely.
Aiden and Anthony's preschool have been having Pajama Week. The boys only attend two days a week, but we've made it into a week long event in our house! We've enjoyed it too!
We did get dressed on Tuesday, because everyone had to go see the doctor! The results?
Me - respiratory infection
Abby - sinus congestion, but not in the lungs and not RSV
Aiden - ear infection, fever, and stomach virus
Anthony - "healthy for now, but one ear is red, so I'm prescribing antibiotics just in case"
Patrick, well, he's just exhausted, he had inventory this week at work. Today alone he worked 16 hours.
So, we've watched movies, played with new toys, changed diapers, sterilized bottles, worked hard on nursing, done laundry, cleaned house, and taken medicine!
Today everyone was feeling much better. Well, except for Patrick and I. We're tired! The new-baby-up-all-night kind of tired. It's awesome and worth it!!! We've waited a long time to be this tired!
Aiden had his birthday party this weekend. I'll post about that later! He got two Lego sets from Mema. He loves them! He and his Daddy put the first set together, a helicopter. Today, he started working on the truck by himself. He sat at the kitchen table for two hours straight working on it. He follows the directions so well! I'm amazed at how enthralled he is by these toys!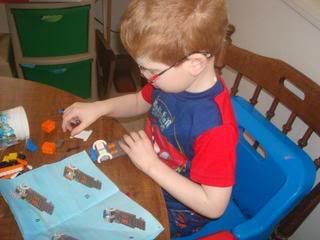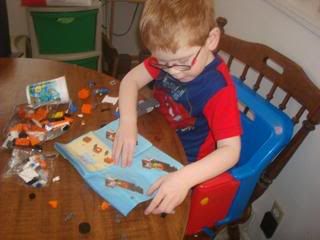 Anthony has been the best helper with Abby. He loves to give her a pacifier, hold her bottle, get a diaper for her, and tell me how much he "wuvs baby Abby!" It is so weird for him to not be my "baby" anymore. I love to watch him with his little sister. He spent the day "posing" for the camera and saying "take my picture Mommy!"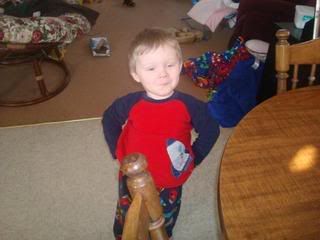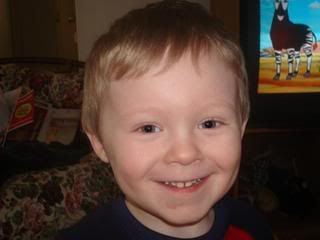 Abby will be four weeks old tomorrow. I just cannot believe that! It doesn't seem possible! She weighed five pounds and four ounces at the doctor visit on Tuesday and she was 18 inches long! She is eating like a champ, a little too much sometimes. She is getting better and better at nursing, but still gets very tired, very easily on that front. She has grown out of her doll clothes in the length. Her eyes are turning to the most beautiful shade of blue. She has the funniest facial expressions. I love it when she smiles at me. I've always given the boys "Eskimo kisses" where we rub noses. She always smiles when I rub noses with her. I know most people would say it's gas, but I have never had a gas pain that has made me smile! She does Not like it when she uses the bathroom. This is such a foreign concept to me, because both of my boys could have cared less if they had dirty pants. But not Little Miss! She gets positively Angry if you do not change her immediately! Falling more and more in love with my daughter has been my favorite activity this week!!!