When we left Macomb two things were left behind. First, my cherry blossom tree. Last, Colin's grave. A good friend suggested transplanting the tree to the cemetery. I hadn't even considered this, but I'm so glad she suggested it! The landlord and the cemetery grounds keeper both agreed to let us do it. The ground was still frozen when we moved in March, so we couldn't transplant it before we left. This weekend we went back to Macomb to see some former students graduate from high school. We also transplanted my tree. It's so nice to have such peace and closure now. I love that my tree is next to Colin's grave. It just seems so right.
First, we had to dig the tree up out of the backyard. It was a little strange being at the house. There are already new tenants there. The boys were very confused by this and really wanted them to "leave our house."
Aiden wanted to help and he wanted his own shovel. His Daddy bought him one.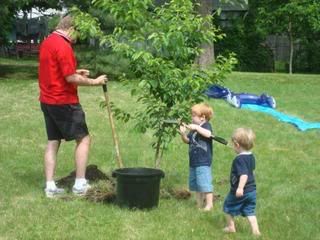 Anthony liked digging.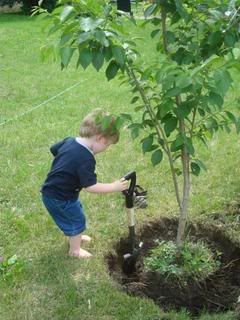 Mommy dug too!
We've placed the tree in its new home.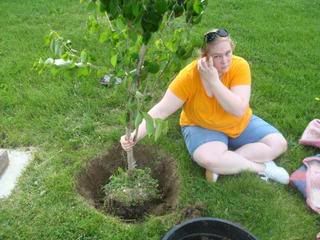 We gave it lots of water! It was a hot day!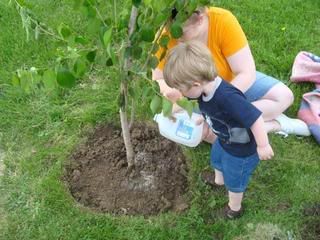 We protected it with some mulch.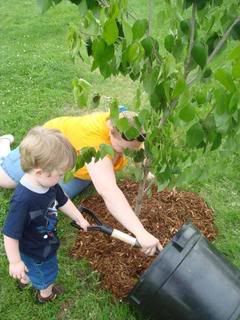 We're all finished! It looks so good, like it was meant to be there!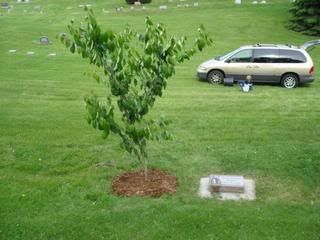 Look how they've grown!!!