The little Princess in the house has more clothes than all of us combined, I believe! When I was pregnant I kept telling people I was worried about Patrick spending all of our food money on his baby girl. This is a psychological tactic called "deflection" to distract from the real issue. I am the real issue! Ha! I love buying for this little girl. So, here is a quick 0-3 month fashion show! I still can't believe she's just now fitting into some 0-3 month clothing. She actually has some 0-3 month things that do not fit her yet! She is outgrowing her sleepers in length, we've moved to 3-6 in those. Ironically, I don't think I bought most of the outfits pictured below!!!
Cousin C.J. gave Abby this beautiful purple and eyelet dress.
Cute outfit purchased by Mommy and Daddy. Shoes from Aunt Carol and Uncle Charles.
These are Newborn size. They are so, so cute!!! I'm constantly looking for a reason to put them on her. However, she is constantly looking for a place to sling them off of her!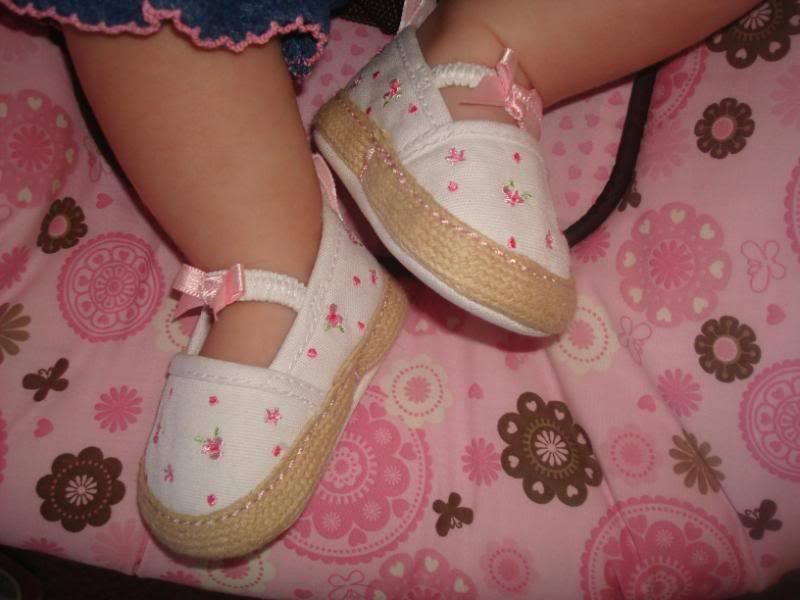 Abby loves to stand. This is a strawberry/picnic number by Osh Kosh that Mommy and Daddy picked out for our trip to "the winter strawberry capital of the world." Okay,okay, maybe I bought more of these than I remembered!
All ready for the fireworks celebrating the Fourth of July.
Not very impressed with the pre-firework entertainment.
But those fireworks were mesmerizing!!! She loves fireworks!