Saturday we were all sitting at home in our pajamas. The boys were playing on the Wii and I was feeding Abby. I said, "I wonder when Spring Break is here." Patrick, said, "I'll look it up." The next thing I know Patrick was saying, "Oh no!" As he was looking up Spring Break on the school's calendar, he saw Kindergarten registration was scheduled, for today, from 8am to 1pm! It was noon! Patrick grabbed Aiden and dressed quickly. They jumped in the car and drove the twenty minutes to the high school where registration was held. Aiden had fun! Here he is meeting one of the Kindergarten teachers and doing a little testing to see if he is ready for Kindergarten. He is, not that we were concerned!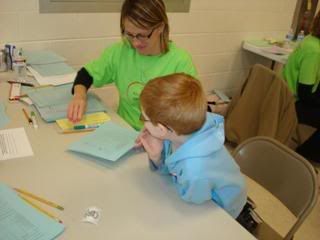 And brushing a great big set of teeth, because who wouldn't want to do that???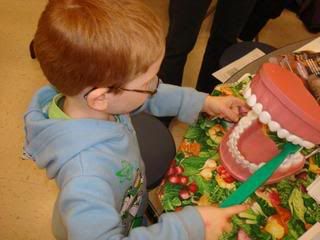 Whew! He's all registered for Kindergarten. Well, the process is started, we still have about one hundred forms to fill out and an Orientation to attend. The best thing is we found out that Kindergarten is only a half day here. We don't know if he will be attending the morning or afternoon session yet, but I'm really excited. I thought he would be gone all day, but he won't! Slow transitions. I like that! School starts August 25th!